Visiting TFFC
Wetlands Trail
Beginning near Lake Zebco, an ADA-compliant, 0.8-mile (one-way) wetlands trail winds past ponds and a pitcher plant bog, alongside a forest stream and through woodland and wildflower areas before ending at a duck blind over a pond where big bass swim and Canada geese raise their young each spring. An open-air pavilion beside the pond serves as a focal point for fly fishing instruction.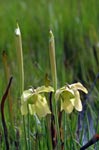 Other points of interest along the trail include a bee house with a working colony of honeybees and a nature communication center where visitors can play recordings of the sounds made by a variety of creatures. Trees, flowers and ponds along the trail are magnets for birds, butterflies and dragonflies; bring your binoculars.
The wetlands trail is also used as a hunter skills trail for hunter education classes held at TFFC and other area locations. The hunting blinds, section of barbed wire fence and full-body decoys of various game and non-game animals you may notice along the trail are used in hunter education instruction. Occasionally you may encounter a class in progress. Don't be alarmed; the guns being carried by some students are non-functional. TFFC is proud of its role in helping to make hunting one of the safest outdoor activities.
The wetlands trail was built as a mitigation project by the Texas Department of Transportation to replace natural wetlands destroyed during construction of the highway loop around Athens. Wetlands are important wildlife habitat and also improve water quality. Interpretive signs along the trail give information about the role of wetlands and identify many of the plants and animals you may see along the trail.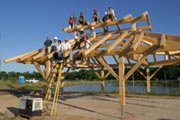 The two timber-framed pavilions along the wetlands trail were built by instructors and students of the Timber Framers Guild of North America. Working like beavers and using no metal fasteners, the men and women workers made the chips fly and completed the framework of each of these amazing structures in one week. Funding for the pavilions included TXU; the Texas Parks and Wildlife Foundation; Exxon/Mobil; Hillcrest Foundation; Liberty-Eylay ISD; R.S. Overcash, Jr., Family Foundation; Mr. and Mrs. Robert F. Langford; Dallas Safari Club; the Sport Fish and Wildlife Restoration Fund; Athens Brick Company, Jim Christensen and Velvin and Weeks.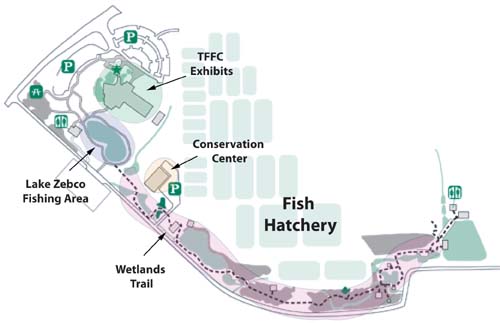 ---
1. Admissions
9. Texas Giants Exhibit