Primitive Campsites (Hike-in | Interior District)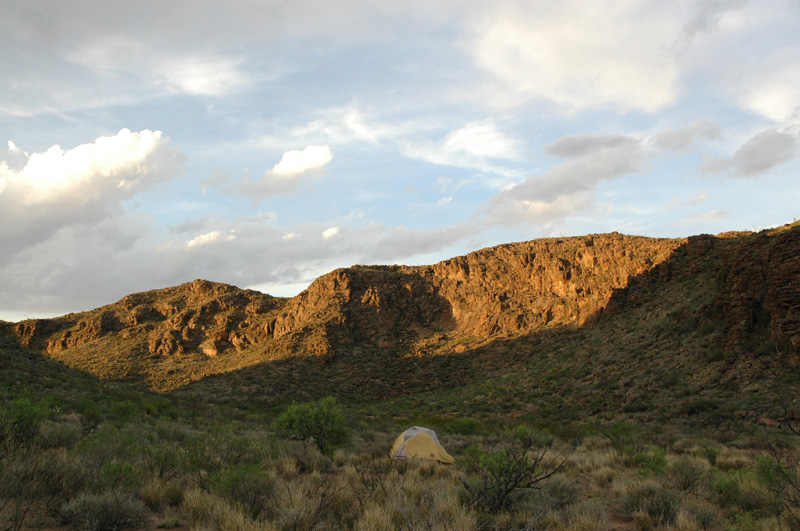 Obtain permits for these sites by checking in at either the east or west park entrances. There are no designated campsites in the backcountry zone. Select your own primitive campsite, with certain conditions: Sites must be at least 1/4 mile from any other existing campsite; at least 300 feet from water sources and prehistoric or historic cultural sites; at least 3/4 mile from trailheads or roads. Click "More" below to learn more about camping here.
Ground fires prohibited
No Water
No Restrooms
You will need a permit to stay at any of our campsites. 
If you plan to use a 4X4 unmaintained road, you must first obtain and sign an Acknowledgement of Use of Four-Wheel Drive Vehicles and Motorcycles.
Get park information and permits daily, in person, at two locations:
Camping Information
Please use designated trails and routes until you are very knowledgeable of and familiar with the park before travelling cross-country.
Backcountry campers may use the "cathole" method to dispose of human waste. You must pack out all trash.
No open fires are allowed due to resource impact; you may use  containerized fuel stoves for cooking.
The maximum stay is 14 nights (total) and seven consecutive days in any one backcountry zone.
Resources
$10
Nightly
Plus daily
entrance fee
Notes
Information and prices can change. Parks charge a daily entrance fee in addition to any facility fees, unless otherwise stated.
Purchase a Texas State Park Pass to enjoy free entry to more than 80 state parks for you and your guests for one year.
You may bring pets to most state parks, but they cannot enter Texas State Park buildings. Learn about rules for pets at state parks. For park-specific pet restrictions, contact the park.
Call the park or the Customer Service Center (512) 389-8900 for more information.