Roadwork Begins
May 2021
By Ranger James
Watching a new park come to life is an exciting thing for us. As work begins, you can almost hear the excited shriek of a child catching their first fish, or the awestruck gasp of someone catching their first glimpse of a Palo Pinto Mountains sunset.
We still have some time before we can truly witness those things here at Palo Pinto Mountains State Park. However, much has been accomplished in the last few months in pursuit of that goal.
Crews have cleared roadways and parking lots. The path and placement of roads, buildings, campsites and parking lots were designed to have minimal impact on natural and cultural resources.
Additionally, we have restricted all clearing efforts to fall and winter months, so they do not interfere with the nesting seasons of golden-cheeked warblers or black-capped vireos.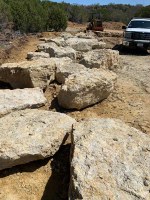 As I type this, contractors are working on getting new roads within the park to the proper grades and ensuring proper drainage to maximize the sustainability of this investment. As they work, they are harvesting large limestone and sandstone boulders. We will use these stones to create furniture and barricades that blend into the natural beauty of the area.
As I mentioned before, this is a truly exhilarating time for us in state parks, and I look forward to sharing more updates soon.