Holidays in the Parks
Celebrate the chill in the air, the smell of a campfire, and time with friends and family! Let Texas State Parks help make your winter holidays an extra special time of year. Choose from any of the unique gifts below, or join us for more than 60 holiday-themed events. 
Your parks are decked out in lights and full of Christmas cheer! Enjoy seasonal crafts, festive decorations, historic tours, chats with Santa and more. See all events on the holiday calendar or pick up a brochure at your nearest state park or TxDOT Travel Information Center.
See how various Texans in history celebrated the holiday season, from plays to candlelit tours and more.
'Tis the season for festive dec­o­ra­tions! Many parks are dressed up in their holiday finest with wreaths, lights, luminaries, and more. Would you like to stay the night with us? Cover your campsite with your favorite Christmas decorations.
Join Santa for a night hike, take a walk under the full moon, or stroll through a nature wonderland! 
Try your hand at crafts and taste some delicious holiday offerings. Learn to pull taffy, create your own ornaments, or demo Dutch oven cooking. 
Holiday Gifts
This year's new designs range from biking to diving to dinosaurs! Ornaments are $8.95 each or $19.95 for the set of three (plus tax, shipping and handling). Buy by phone at (512) 389-8900, Monday - Friday, 8 a.m. - 6 p.m. Central. Learn more about the ornament program here, and check out designs from past years. 
Redeem these for park passes, entry and overnight fees, store purchases and more. Only in December, buy a Texas State Park Gift Card valued at $75 or more and get a 2016 ornament FREE! Tax, shipping and handling still apply. Buy by phone at (512) 389-8900, Monday - Friday, 8 a.m. - 6 p.m. Central.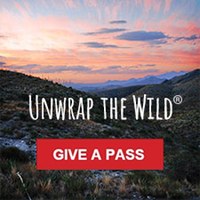 For a limited time, Texas Parks and Wildlife Foundation is offering the chance to buy a State Parks Pass online for only $65! One hundred percent of proceeds go to support state parks. Give friends and loved ones unlimited visits to more than 90 Texas treasures! This special offer lasts until Dec. 19.
Special BOGO offer! Give 10 issues for just $10. Give a second gift for only $5 more! When you celebrate the holiday season by giving Texas Parks & Wildlife magazine, you give:
A year of outdoor inspiration, 

Spectacular photographs of Texas landscapes and wildlife

Award-winning, in-depth articles on state parks, wildlife, conservation, fishing and hunting

A gift that keeps giving all year and doesn't even need wrapping paper!
Add the mobile app for iPhone, iPad or Android for just $2 per subscription. Your gift recipient will get immediate digital access to all the magazine content, including archives and app-exclusive content like the Texas Hunting Guide, Texas Fishing Guide and Pokémon Go! Trainers' Guide to State Parks. Order your gift subscriptions today.