Plan Your Visit
Ideas for things to do at Tyler State Park.
Wondering what you can do here? We have a few ideas for you!
Half day
Cool off with a swim in our spring-fed lake, and then stretch out on our floating dock. Rent a boat to explore the lake.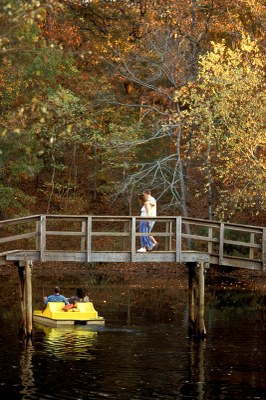 Catch a fish! We loan fishing equipment for you to use in the park, and no fishing license is needed.
Strike out on some of our shorter hiking trails, such as the Whispering Pines Nature Trail, built by the Civilian Conservation Corps. The very short Blackjack Loop is perfect for families.
Look for birds, ride your mountain bike or find a geocache.
Bring a picnic for your family, or plan a family party at one of our group sites.
Full day
Along with the half-day options, you can explore more of the park's 13 miles of trails on foot or mountain bike. Our 3.1-mile B Loop Trail will take you on a tour of the park's many different kinds of forest.
Check out the park's historic structures, built by the CCC more than 70 years ago, including the bathhouse still in use today.
Attend a ranger program and learn a new outdoor skill or about nature at our park.
Weekend
A weekend visit will let you bask in the Pineywoods experience and fully explore the park. Camp or stay in a cabin or screened shelter.
By day, relax by the lake; hike, swim and fish; and spend time outdoors with family and friends. By night, listen for owls and marvel at the stars.
Check with park staff for more ideas and information.