A Tradition of Service
Seven Days of Faithful Service
It's the second week of September 2008, and dove season is a week old in the North and Central zones of Texas. Game wardens are busy conducting off-the-pavement patrols, checking leases and hunters in the first major season of the year. Many have just returned from emergency response duty for Hurricane Gustav. Even as they are keeping tabs on dove hunters, they are told to keep their "go-bags" packed: Hurricane Ike is headed toward Texas.
In the meantime, Capt. Robert Newman, in charge of far West Texas' Region 1, District 3, gets a call from the Presidio County sheriff: A catastrophic rain event in Mexico's Concho River watershed will potentially wipe the U.S. border town of Presidio from the map. Newman sends the four closest game wardens and two flat-bottom boats to Presidio. More will arrive later to join local, state and federal law enforcement agencies in preparing residents for evacuation, filling sandbags and distributing food and water.
In Kerr County, in the Texas Hill Country, Game Wardens Mark Chapa and Kenny Lee continue filing cases on the operation of vehicles in a public stream bed. "Four-wheeling" in fragile, spring-fed Texas river beds once was a popular pastime in these parts, but was outlawed several years ago after the environmental toll became obvious.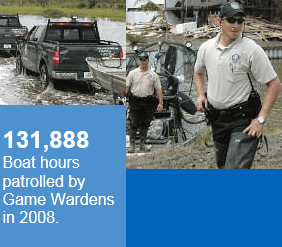 At Lake Lewisville, just north of the Dallas-Fort Worth Metroplex, Denton County Game Warden Stormy McCuistion gets a call. A 20-year-old man has disappeared at the edge of a swimming beach in the City of Little Elm. McCuistion spends two hours on the water looking for the young man, then assists the Lewisville Dive Team as they recover his body.
With Ike's landfall still three days in the future, Galveston County Game Warden Kevin Webb and newly-assigned National Marine Fisheries Service Special Agent Matt Clark are inspecting fish houses on Galveston Island when they discover several hundred pounds of red snapper unlawfully unloaded from a commercial snapper boat. The game warden and NMFS special agent obtain written confessions from the owner of the fish house as well as the captain of the snapper boat.
By Sept. 12, a strike team of 50 game wardens from outside Southeast Texas is positioned at Camp Allen, in Grimes County, paying close attention to the hurricane's track, which bends ever-eastward.
The center of Ike passes over Galveston Island in the early morning hours of Sept. 13. The storm will enter the history books as the third-most destructive to ever strike the United States, where 112 deaths are blamed on the hurricane. More than 30 individuals, mostly from hard-hit Galveston Island and Bolivar Peninsula, are still unaccounted for.
In the hours leading up to Ike's landfall, and in the days and weeks after, Texas game wardens reprise their heroic efforts in New Orleans, where they rescued more than 5,000 Hurricane Katrina victims. As search and rescue became search and recovery, they lead teams into massive debris fields, hoping to recover victims' remains and give families some measure of closure. In more than 30 instances, they are successful.
When all is said and done, more than 320 Texas game wardens will have worked over 24,000 hours in response to Hurricane Ike.
---
100 Years Legendary Service - Some call them heroes
But then, game wardens always have been deserving of that label, in large ways and small. Since 1895, they have built a reputation as "can-do" peace officers with a heritage second only to the legendary Texas Rangers. Eighteen have died in the line of duty.
That proud tradition of service, more than a century old, is carried on today by more than 500 men and women who reflect the diversity of the people of Texas. They come from small towns and some of the nation's largest urban areas. Many have degrees in criminal justice or wildlife management or biology. Others studied the humanities, and worked as bankers and graphic designers, city cops and schoolteachers, before gaining entrance to the Game Warden Academy.
Something they all have in common is their dedication and desire to serve the people of Texas, and to help conserve the state's natural and cultural resources.
Only about 10 percent of applicants to the Texas Parks and Wildlife Department's law enforcement training program make the cut each year.
Those who are accepted undergo the most rigorous training of any peace officer in Texas, and are widely acclaimed as the best-trained and best-educated conservation law enforcement officers in the nation. It's a program with an international reputation. In the most recent cadet class, two trainees hailed from the nascent conservation agency of the Mexican state of Nuevo Leon. Conservation organizations hope to send officers from as far away as Africa to attend future courses.