Managed Lands Deer Program
---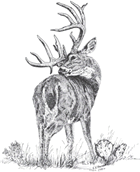 The Managed Lands Deer Program (MLDP) is intended to foster and support sound management and stewardship of native wildlife and wildlife habitats on private lands in Texas. Deer harvest is an important aspect of habitat management and conservation. Landowners enrolled in either the MLDP Harvest Option or Conservation Option are able to take advantage of extended season lengths and liberalized harvest opportunities.
Application and General Enrollment Information
MLDP participation is completely voluntary. Once enrolled program participants must meet MLDP requirements for the year of enrollment.
Applicants seeking to enroll in either the MLDP Harvest or Conservation Option will need to complete an online application through Texas Parks & Wildlife Department's Land Management Assistance Application (coming soon). The application will require the landowner to create an account and to draw a property boundary in the online system.

Note: an email address is required for the landowner and any designated agents the landowner may assign to the account.

Deadline to withdraw from MLDP participation is September 15 of each year. The applicant must formally withdraw from MLDP through the department's online web application in TWIMS.

If the applicant fails to withdraw from MLDP by the deadline, no deer harvest may occur on the enrolled property except in accordance with MLDP rules during the enrollment year.

A landowner may appoint a person to act as the landowner's authorized agent for the purposes of MLDP participation. Authorization of a designated agent will be completed through TWIMS.
Multiple landowners may combine contiguous low-fenced tracts of land to create an aggregate acreage for enrollment in the MLDP Harvest or Conservation Option.