Pioneer Day
🎉Take a journey back in time and experience the life of pioneers.
Join us to experience a slice of life from the early days of a pioneer.
Explore how to live off the land and look closer at lo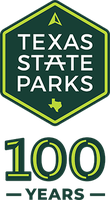 cal flora and fauna. Take to the water and practice  paddling on a river adventure. Join the campfire and discover the practice and patience of dutch oven cooking. Try out your fishing prowess with a cane pole! Reconnect with nature in a new way and experience the skills of a pioneer.
Check back for our program schedule. We'll offer many activities between 9am-6pm including: period reenactors, dutch oven cooking, fur trade history, archery, cane pole fishing, guided canoe trip, guided hike, cowboy poetry, and LIVE music. 
This is one of many 100-year celebration events happening in Texas state parks this year.
Entry to a park is free on the day it hosts an official 100-Year celebration event (applies to day passes only). Guarantee entry by reserving your free day pass up to one month before this special event.