Mason Mountain WMA Technical Guidance and Research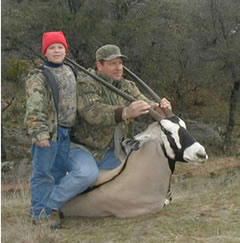 Up to 8 hunters will receive permits for a guided hunt for gemsbok. The gemsbok is a South African species standing 46-55 inches and weighing 400-530 pounds. Mason Mt. Has produced some outstanding trophy gemsbok with the # 1 archery and # 6 modern arms in the Trophy Game Records of the World.
This hunt will take place in February and all food and lodging are provided. Success rates on past hunts have been 100%.