Greetings
Enjoy the latest edition of the State Parks Getaways e-newsletter, just in time to make your plans to enjoy time in a Texas state park this holiday season.
Featured Parks
Texas State Railroad in Holiday Fashion
Christmas in the Parks 2006
Texas State Parks Gearing Up For Christmas Events
Santa Claus forsakes his reindeer-pulled sleigh in favor of an aerial tramway in El Paso and a Texas State Railroad steam train in Palestine in just a couple of the unusual twists to holiday season celebrations in state parks throughout Texas.
Read more about Christmas in the parks.
Featured Event
Monument Hill Trail of Lights
Trail of Lights
December 2, 8-9, 15-16, 2006 — Monument Hill & Kreische Brewery SHS
Walk along the fantastic quarter-mile trail overlooking the town of La Grange and be delighted by the thousands of lights that illuminate it.
Read more about the Trail of Lights event.
Featured Video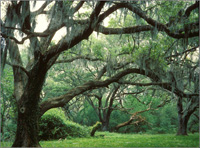 Enjoy the Scenery at Brazos Bend SP
Brazos Bend State Park
Video Presentation of Brazos Bend State Park
Not far from downtown Houston lies Brazos Bend State Park (S.P.), a scenic haven for hikers, star gazers, birdwatchers and wildlife observers.
View the video and get more info
Read about the TPWD Privacy Policy.
© 2005-2008 Texas Parks and Wildlife Department
This document and other documents provided pursuant to the State Parks Getaways e-newsletter are for information purposes only. Texas Parks and Wildlife Department cannot guarantee the accuracy of any information presented after the date of publication. Information provided in this document is provided "as is" and this e-newsletter may be copied and distributed subject to the following conditions: (1) All text must be copied without modification and all information must be included; (2) All copies must contain TPWD's copyright notice and any other notices provided therein; (3) This document may not be distributed for profit.