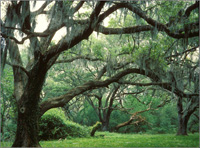 Enjoy the Scenery at Brazos Bend SP
Brazos Bend State Park
Video Presentation of Brazos Bend State Park
Not far from downtown Houston lies Brazos Bend State Park (S.P.), a scenic haven for hikers, star gazers, birdwatchers and wildlife observers. For stargazers the George Observatory is located within the park. More than 270 species of birds have been sighted here, and the prehistoric-looking American alligator is the park's most noteworthy resident. Hiking and biking trails meander through the park's varied terrains, and several lakes offer excellent fishing.
For a video on Brazos Bend State Park, please visit our videos page.
Read about the TPWD Privacy Policy.
© 2005-2008 Texas Parks and Wildlife Department
This document and other documents provided pursuant to the State Parks Getaways e-newsletter are for information purposes only. Texas Parks and Wildlife Department cannot guarantee the accuracy of any information presented after the date of publication. Information provided in this document is provided "as is" and this e-newsletter may be copied and distributed subject to the following conditions: (1) All text must be copied without modification and all information must be included; (2) All copies must contain TPWD's copyright notice and any other notices provided therein; (3) This document may not be distributed for profit.