Nature
Overlapping regions
Three ecological regions merge in Howard County and Big Spring State Park. To the north and east are the western Rolling Plains; to the south is the Edwards Plateau; and to the west are the Southern High Plains (also known as the Llano Estacado or the Staked Plains).
The meeting of ecological regions results in plants and animals from each region overlapping in a relatively small area.
Domestic livestock have not grazed the park land since the 1920s. As a result, plants typical of this semiarid region blanket the park. Large woody plants include mesquite, shin oak, skunkbush sumac and redberry juniper. Prickly pear and other cacti are common on the rocky slopes.
Common wildlife includes cottontails, jackrabbits, ground squirrels and roadrunners; look for them early or late in the day. Numerous and varied bird species live here or stop over.
Watch for wildlife near our ponds. Visit the nearby airpark to get a glimpse of prairie dogs and burrowing owls.
On the edge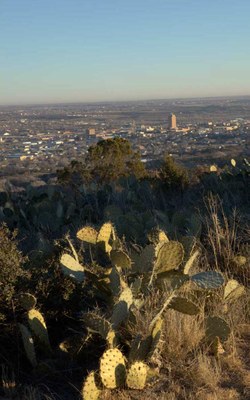 Much of west-central Texas is a relatively flat, dry region noted for its geographic monotony. Big Spring State Park, however, perches on the northern edge of the Edwards Plateau, on one of a series of bluffs rising 200 feet above the rolling plains.
The Edwards Plateau is a vast, relatively flat upland area stretching as far southeast as Austin and San Antonio. Thick beds of limestone form the plateau, deposits of an ancient sea that once covered much of Texas.
Over time, erosion of the eastern and southern parts of the plateau created the hilly terrain known as the Hill Country.
The bluff upon which Big Spring State Park sits is known as Scenic Mountain. Below it sprawls the town of Big Spring. The town's name commemorates a large spring which served as the only watering place for people and herds of bison, antelope and wild horses within a 60-mile radius.