Group Hall with Kitchen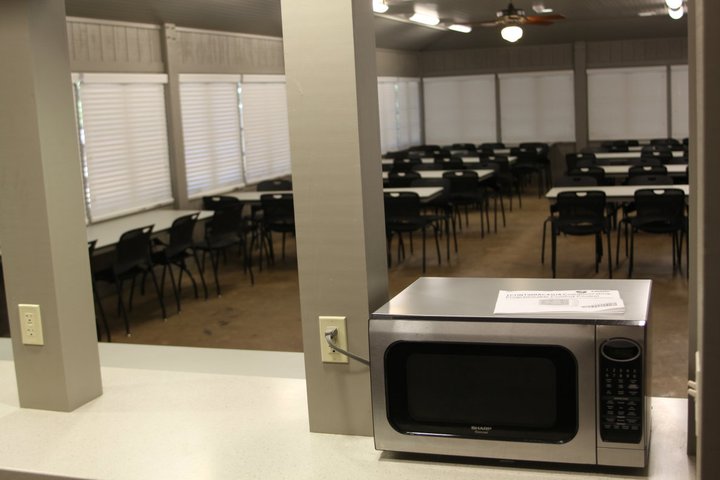 A $75 credit card cleaning deposit is required at time of check-in. Six cabins are adjacent to the hall; you must reserve cabins separately. The hall is air conditioned and heated, with a commercial kitchen, and ADA-accessible parking and restroom adjoining the dining hall by a walkway.
A/C unit
Water
Electricity
Interior light
Microwave
Refrigerator
Stove with oven
Ceiling fans
Double sink
Freezer
Eight plastic dining tables
Chairs
Outside grill/smoker
Restrooms with showers nearby
This facility has been renovated. It has solid walls with windows that can be opened, A/C, . Restrooms are next to the Dining Hall.
$150
Daily
Plus daily
entrance fee
Note: Information and prices are subject to change. Please call the park or park information (1-800-792-1112) for the latest updates. The daily entrance fee is charged in addition to any facility fees, unless otherwise stated. A Texas State Park Pass will allow you and your guests to enjoy unlimited visits for 1-year to more than 90 State Parks, without paying the daily entrance fee, in addition to other benefits.
Pets are not allowed in any Texas State Park buildings. For other general pet restrictions check the Texas State Park Regulations. For park specific pet restrictions contact the park.
Call the park or park information (1-800-792-1112) for more information.