Report Game Violations
1-800-792-4263
Or visit ogttx.com
1-877-B-A-WARDEN
CONSERVATION ENFORCEMENT
TEXAS GAME WARDEN
Texas Game Warden Mission Statement
Since 1895, our mission has been to have Texas Game Wardens serve the citizens of Texas by providing professional law enforcement, water safety, and search and rescue, while working to conserve and protect the natural resources of Texas.
Game Warden Strategic Plan
For over 100 years, Texas Game Wardens have exemplified dedication, passion and commitment to protecting the natural resources of Texas.
As fully commissioned State Peace Officers, Texas Game Wardens not only enforce fishing, hunting and water safety laws; they also apprehend dangerous criminals and provide valuable public safety to the people of Texas.
We now have our Strategic Plan available, which includes our primary goals, strategies, and leadership model.
Prosecutor of the Year
A brand-new award aims to formally recognize a courtroom champion each year for exemplary efforts in prosecuting fish, wildlife, water safety, natural and cultural resource or other environmental crimes in Texas.
At its August Commission meeting in Austin on August 23, 2018, the agency recognized Sabine County Attorney Robert G. Neal with the Prosecutor of the Year award. Cases he has prosecuted range from trespass, hunting deer at night, poaching turkeys, to drug possession cases, BWIs, and DWIs issued by TPWD Game Wardens and Park Peace Officers.
Mr. Neal is extremely supportive of his county's Game Wardens. He recognizes them as the ones doing the hard work in the field, and their cases and work product are second to none. He views our Texas Game Wardens as protectors of our resources who preserve our way of life.
Midwest Officer of the Year
In 1995, Texas Parks and Wildlife Law Enforcement Division joined the Association of Midwest Fish and Game Law Enforcement Officers. The association is comprised of twenty-nine member agencies from the United States and Canada. This past June, at the 74th annual meeting held in Bismarck, North Dakota, Game Warden Rob Frets was recognized as the Texas Officer of the Year for his outstanding service and accomplishments.
Frets was stationed for approximately nine years in Kinney county before transferring to Wilson County Texas in May 2017. He exemplifies teamwork and outreach daily in every facet of his career and personal life.
He is a team player in every sense of the word. His outstanding attitude is noticed throughout the department. He is the first to volunteer for special assignments such as border operations, hurricane duty, or any maintenance that is needed in his district. Game Warden Frets has volunteered to work the opening weekend of dove season in Frio County for the last ten years and has made some outstanding baiting cases seizing hundreds of mourning and white-winged doves with numerous violations being filed in Frio County courts. Warden Frets does not hesitate to work hand in hand with other Law Enforcement agencies – United States Border Patrol, Texas Department of Public Safety, Wilson County Sheriff's Office and local Police Departments.
As State Police Officers, Texas Game Wardens are called to respond to many difficult and dangerous situations. Warden Frets is one to be counted on to respond and deploy at any time without question. His actions displayed in response to the horrific events that took place on November 5, 2017 will leave you without question regarding Warden Frets' character and bravery.
That day, Game Warden Frets was at the Wilson County Sheriff's Office when numerous 911 calls came into dispatch reporting an active shooter at the Sutherland Springs Baptist Church. Warden Frets and several Wilson County Deputies immediately responded to the call.
Upon arrival at the church, Warden Frets grabbed his patrol rifle and extra magazines and met two La Vernia police officers. They entered the church from different areas to the smell of gun powder and spent cartridges. After no shooter was found inside the church, Warden Frets returned to his patrol unit to retrieve his medical bag. He re-entered the church to assist the wounded without hesitation. Pulling adults and children from the carnage, wrapping wounds, and carrying them from the church to the medics on the scene.
Warden Rob Frets encountered an overwhelming tragedy that day. Twenty-six lives were lost. Working alongside the other personnel there and applying the knowledge he received through training, Warden Frets did all that he was capable of to help save as many lives as he could.
Although he is viewed by many as one, Warden Frets does not consider himself a hero. He is a very humble person who will tell you he was simply doing his job as a Game Warden.
Warden Frets reacted to a tense situation with the utmost courage and humility that day. His act of courage and outstanding performance under unusually difficult and dangerous circumstances are a testament to his leadership character.
NASBLA 2018 Boating Safety Officer of the Year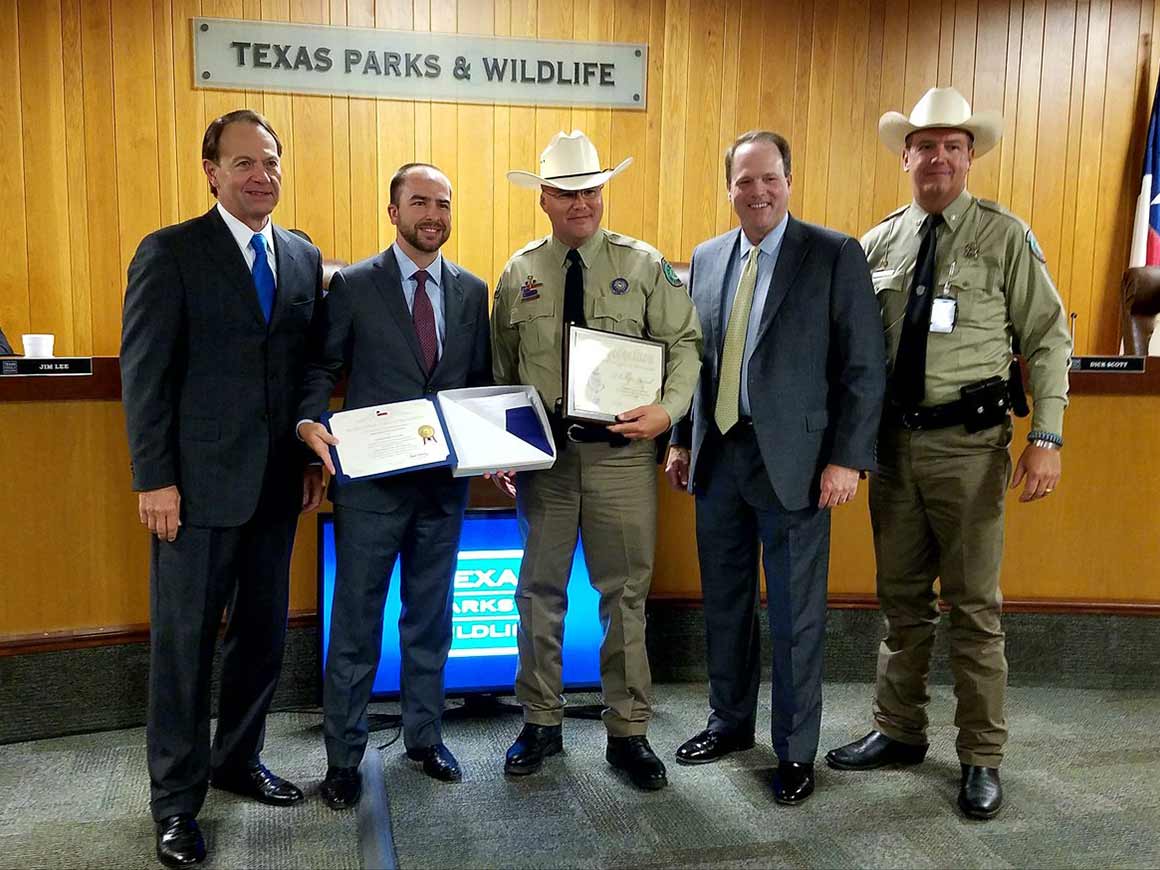 At its Commission Hearing in Austin on August 23, 2018, the National Association of State Boating Law Administrators announced Game Warden Phillip Wood announced Texas Boating Safety Officer of the Year.
Wood has been a Texas Game Warden for 15 years and his patrol assignments have included Jasper and currently Angelina County. Both counties include a portion of Lake Sam Rayburn, one of the largest lakes in Texas, at 116,000 surface acres. He has also been responsible for patrolling approximately 120 miles of the Neches River to include B. A. Steinhagen Lake and 20 miles of the Angelina River.
His tenure as a Game Warden in two different counties on Lake Sam Rayburn has given him the ability to locate lost boaters with very minimal information from a frantic phone call from either the lost boater or family member. Often time the callers have very little knowledge of their location. He has also been instrumental in responding to nearly every land-falling hurricane disaster that has impacted our Texas coast in the past 15 years. These include Hurricane Katrina (Louisiana), Rita, Ike and Harvey, in which he has rescued numerous persons in each disaster.
He has filed or been directly involved in the filing of approximately 80 BWI/BUI cases in his career. This is an accomplishment that could only be obtained through consistent BWI enforcement every year. He has also developed a very strong relationship with the prosecutors that he works with, and as a result has a very high conviction rate on the water safety and BWI cases he files.
He has placed himself into harm's way in many situations over his 15-year career, however none quite like the call he received on April 2, 2016. On this date, Phillip and a civilian rider were patrolling the Neches River when Phillip received a call from another nearby warden, from Houston County, had been ejected from his boat while on patrol. Wood and his civilian partner were able to reach the injured warden and immediately determined that he had a serious leg injury and that hypothermia was quickly becoming an issue. They both were able to get him out of the water and onto the bank and began to apply dry clothing items to help him retain body heat. Shortly after, other help began to arrive. It was the quick actions of Phillip and his civilian partner that likely saved the life of their colleague. These actions coupled with the action of others that arrived later resulted in the successful extraction of him from the remote Neches River bottom via helicopter. That warden made a full recovery and was able to return to work one year later.
Sky Rescue: Helicopter Search and Rescue Team
"Any natural disaster and we will go." Since 1895 our Texas Game Wardens have played a critical role in protecting Texas. They are here to help the citizens of Texas with an integrated team of professionals.
From well-trained helicopter pilots to K-9 teams to sonar-equipped dive teams, they risk their lives to protect others. From swift water rescue boats to helicopter hoists, there is no value that can be placed upon losing a human life.
Your Texas Game Wardens strive to maintain funding levels to have an appropriate response to persons in need in Texas.