Law Enforcement News
Report Game Violations
1-800-792-4263
Or visit ogttx.com
1-877-B-A-WARDEN
CONSERVATION ENFORCEMENT
TEXAS GAME WARDEN
Texas Game Warden Mission Statement
Since 1895, our mission has been to have Texas Game Wardens serve the citizens of Texas by providing professional law enforcement, water safety, and search and rescue, while working to conserve and protect the natural resources of Texas.
Game Warden Strategic Plan
For over 100 years, Texas Game Wardens have exemplified dedication, passion and commitment to protecting the natural resources of Texas.
As fully commissioned State Peace Officers, Texas Game Wardens not only enforce fishing, hunting and water safety laws; they also apprehend dangerous criminals and provide valuable public safety to the people of Texas.
We now have our Strategic Plan available, which includes our primary goals, strategies, and leadership model.
National Wild Turkey Federation Wildlife Officer of the Year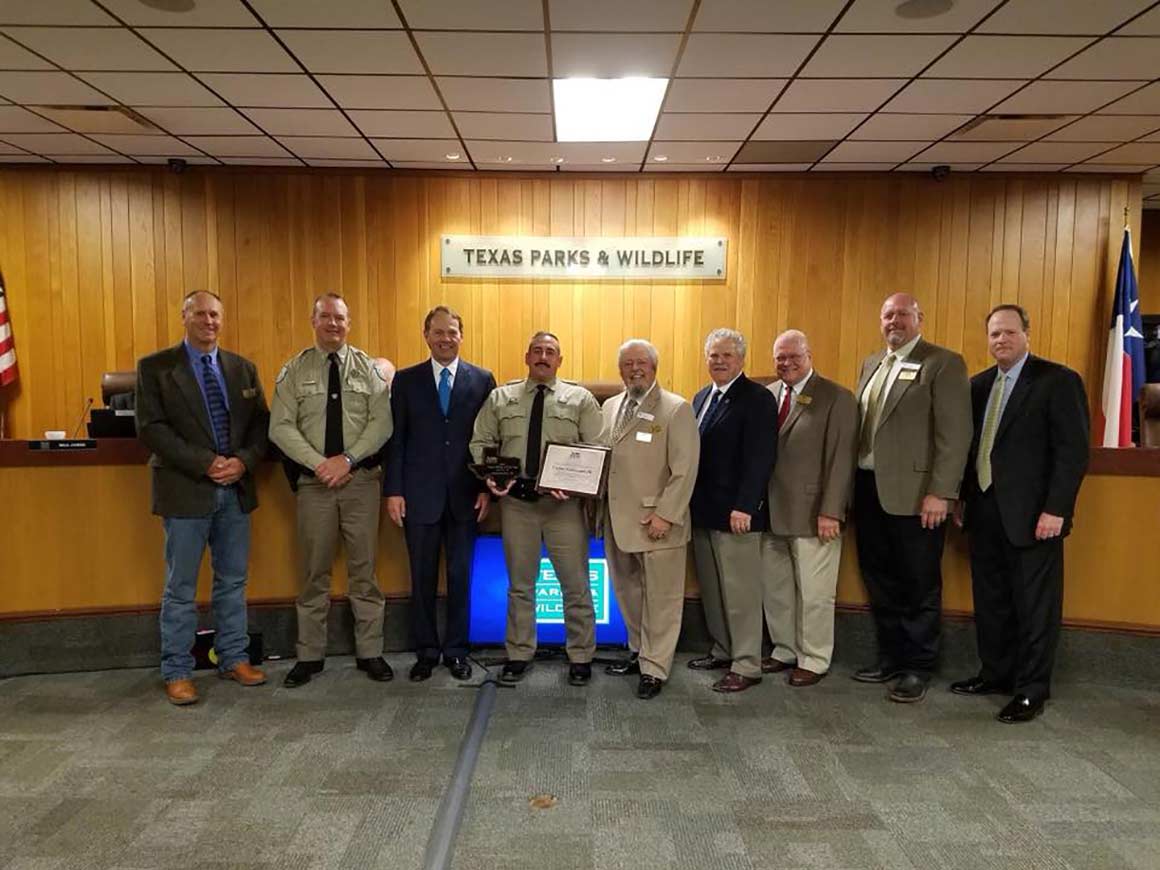 In the Texas Parks and Wildlife Department Commission meeting held in Austin on March 22, 2018, the National Wildlife Turkey Federation presented Game Warden Carlos Maldonado as the Officer of the Year.
He has served the agency as a Texas Game Warden for Jim Hogg County for the past nine years. A member of the 54th cadet class, he is a very active Game Warden in an extremely challenging area of Texas.
From serving his community's emergency services to his positive role model for area youth, he is most deserving of this prestigious award. We are proud of him for all his dedication, commitment, and strong work ethic.
Search and Rescue, Disaster Response
"Any natural disaster and we will go." Since 1895 our Texas Game Wardens have played a critical role in protecting Texas. They are here to help the citizens of Texas with an integrated team of professionals.
From well-trained helicopter pilots to K-9 teams to sonar-equipped dive teams, they risk their lives to protect others. From swift water rescue boats to helicopter hoists, there is no value that can be placed upon losing a human life.
Your Texas Game Wardens strive to maintain funding levels to have an appropriate response to persons in need in Texas.