Texas Aquatic Science Curriculum

Texas Aquatic Science is a comprehensive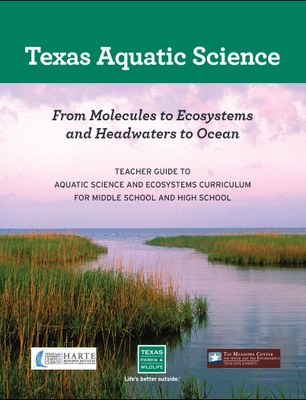 aquatic science curriculum, from molecules to ecosystems, and headwaters to ocean, for middle school and high school students.
The curriculum consists of an online student textbook, a teacher guide, specially produced videos, and supplementary materials.
*** Currently accepting applications for the Fall 2020 Texas Aquatic Science Textbook Scholarship. 
All educators are encouraged to apply, with first preference given to schools meeting all the following:
The school serves a predominantly high need student population with greater than 75% of students representing a low socioeconomic scale.
The school aims to actively use the Texas Aquatic Science curriculum.
The school aims to participate in Texas Aquatic Science field activities at a Certified Field Site or on the school grounds.
Email questions to Elise Pullen, elise.pullen@tpwd.texas.gov
Teacher Guide
To ensure the protection of answers throughout the Texas Aquatic Science Teacher Guide and its sub-parts, they are password protected. Click the Access Request Form (hyperlinked to the current form) to verify your email and receive the password.
Teacher Guide and Answer Key Access (password protected)
Additional Materials
Workshops
Texas Aquatic Science workshop goals:
introduce educators to the materials and philosophy of TAS
provide a sampling of field activities
make a connection to local water and wildlife issues that will help people become aware of their place in the environment and their actions to protect it
demonstrate field interpretive techniques used in TAS field activities and TAS trunk equipment inventory
Cost: FREE
Check back for Fall 2020 workshops.
If you have questions about a workshop contact Melissa Felty (Alderson) at Melissa.Alderson@tpwd.texas.gov or (512) 389-8060.
Student Materials
TAS Web Portal
Student Textbooks available from Texas A&M University Press
and Kindle version available from Amazon.com.
Features:
Written for middle school and high school students.
Designed to help teachers make students aware of the importance of water to life, aquatic ecosystems, and what we must do to conserve water and aquatic life.
Hands-on classroom and field activities
Short (around 2 minutes each) videos
Students learn and demonstrate their new knowledge in creative products and performances.

Science investigations, games, models, Internet projects,
Field based assessments of water quality and environmental conditions in a variety of field trips
Lessons embed higher order thinking skills, provide depth and complexity of learning, and engage students in many contexts and methods.
TEKS aligned
All activities are aligned with the state curriculum standards, the Texas Essential Knowledge and Skills for sixth through eighth grade and for Aquatic Science and Environmental Science courses for high school.
Texas Aquatic Science Brochure
---
Texas Aquatic Science is a cooperative education project sponsored by Texas Parks and Wildlife, The Harte Research Institute for Gulf of Mexico Studies at Texas A&M University-Corpus Christi, and The Meadows Center for Water and the Environment at Texas State University. Texas Aquatic Science was modeled after the Missouri Department of Conservation's (MDC) curriculum, Conserving Missouri's Aquatic Ecosystems. Support was provided by the Ewing Halsell Foundation, San Antonio and the Sport Fish Restoration Program of the U.S. Fish and Wildlife Service.