Swimming Pool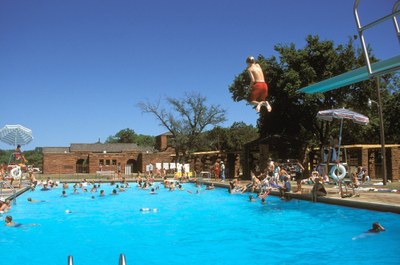 Ticket prices
Free for 5 years old and under
$4 for 6 years old and up
You must purchase a day pass, as well as a pool ticket, to access the pool. Purchase day passes and pool tickets online.
Purchase same day tickets in person at the park. They are not available online or over the phone. These tickets are first-come, first-served.
Pool schedule
The pool is open Friday - Sunday until the season ends August 14, 2022.  There are two swim sessions each day.
First session: 10 a.m – 1 p.m
Second session: 2 p.m. - 5 p.m.
Other information
During the pool season, the swimming pool routinely reaches maximum capacity on weekends. Once the safe bather load is reached, no one else will be able to enter the pool area. Park visitors, including campers, are not guaranteed access to the swimming pool. We recommend making reservations for the pool online in advance.
The swimming pool has ADA entry options, although the restrooms are not fully wheelchair accessible.