Swimming Pool
The Abilene State Park pool will be reopening to the public, Tuesday through Sunday, starting July 1 until Aug. 16, 2020. New guidelines will be in place to encourage social distancing and give park staff time to disinfect the pool area.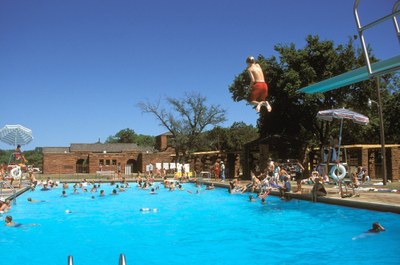 Beginning June 29, tickets can be purchased for any of the three, two-hour time slots the pool is open.
Time slots are:
10:30 a.m.-12:30 p.m.
1:30 p.m.- 3:30 p.m.
4:30 p.m.-6:30 p.m.

Each time slot will only have 75 tickets available; purchasing tickets in advance is highly recommended. 
Ticket prices (pool fee is in addition to the park entrance fee):
$1 for children under 12
$2 for anyone 12 and up.

Between each time slot, the pool area will be cleared of guests so park staff can clean and disinfect frequently touched areas like tables, lounge chairs and handrails. Restrooms will also be monitored and cleaned throughout the day but will also be fully cleaned and disinfected between each swimming session.
Social distancing is strongly encouraged for all visitors in the pool area. Tables in the pool area will be spread at least 15 feet apart and lounge chairs will be in small groups of no more than four with at least a 10-foot social distance. Six foot spacing will also be used for lines at the concession stand.
Tickets purchasing for the Abilene State Park pool will start on June 29, 2020.  
During the pool season, the swimming pool routinely reaches maximum capacity on weekends. Once the safe bather load is reached, no one else will be able to enter the pool area. Park visitors, including campers, are not guaranteed access to the swimming pool.
The swimming pool has ADA entry options, although the restrooms are not fully wheelchair accessible.