Accessibility Information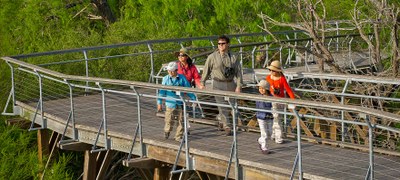 An interpretive trail, the two-story-high hawk tower, and two wildlife photography blinds are ADA-certified, wheelchair-accessible.
The group hall, its courtyard and its restrooms are wheelchair accessible.
The park is closed to private vehicles, so about 3.5 miles of paved road is used only by staff and other official vehicles. The road is very safe and quiet for bicycles and wheelchairs.
The park has shuttle service. One of the trams has ramps and space for at least one person in a wheelchair. The trams run daily from October through May, and Thursday through Sunday from June through September. 
---

Conditions can change quickly. Contact the park for more information and to ask about the status of particular accessible features.