2023 Fall Foliage Color Report
This report will be updated almost every week through November. You can also call the park directly for a recorded report at (830)-966-3413, option 3.
Weekends are selling out fast, so we encourage you to book a day pass online before your visit. 
---
Nov. 25, 2023
We are seeing a lot of leaves fall while some trees have made no change at all. We have most likely passed peak color change.
---
Nov. 17, 2023
We have a mixture of trees without leaves, with changing leaves, and with green leaves. Make sure you make a reservation to come out!
---
Nov. 10, 2023
Thanks to the freeze last week, we are finally seeing the maples change! Over the next week we will start seeing a lot of trees change and will probably hit the peak of the season.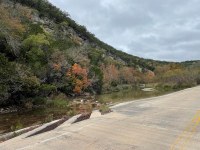 ---
Nov. 6, 2023
Still no color on the maples but we did have a freeze this week so may have some changes in the next week and a half.
---
Oct. 28, 2023
We are getting some much needed rain this week at Lost Maples! Some of the maples are starting to produce a few colorful leaves but just a handful so far.
---
Oct. 20, 2023
Some of the trees are pretty bare of leaves. The sycamores are starting to turn yellow, and the maples are mostly green with some dead leaf patches still on the branches. It has been cooling off nicely though!
---
Oct. 6, 2023
First update of the season! No color change has started. Any colors you see are resulting from the drought which really took a toll on the trees this year.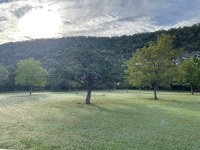 ---
Visiting the park in Fall Foliage season
Busy season
Expect delays, traffic congestion, and capacity closures on fall weekends and the week of Thanksgiving. When parking lots are full, the Natural Area will close. 
To guarantee you get in during our peak season, reserve passes online, or by calling the customer service center, before you visit. Please check the park Facebook page for immediate updates on closures, or contact the Natural Area.
Park info
You can drive about one mile into the park to view foliage from your vehicle.
Restrooms and picnic tables are wheelchair accessible. Learn more about accessibility at this park.