2011 Lost Maples State Natural Area Fall Foliage Report
November 29, 2011 Report: We've had some amazing color this year despite the extreme drought in the hill country. We mentioned last week that Mother Nature can change our landscape in a heartbeat, and with the recent winds and rain, most of our beautiful fall palette is now on the ground. This will be our last foliage update for 2011. Thanks to all who came out to share the color season with us! Of course, we welcome a visit anytime to hike, camp, and just enjoy our beautiful park. Look for our spring birding updates in mid-March - we'll have experts Les & Jane Hall here at the park to give tours and share their extensive knowledge. Hope to see everyone soon!
TPWD photos taken on 11/27/2011 by Richard Treece
---

November 22, 2011 Report: Happy Thanksgiving! This week we're finding most Maple trees in the park have reached peak color although, oddly, some are still in transition. It's been an unusual weather year and Mother Nature can change our landscape in a heartbeat with wind or rain, or both. On schedule, the Lacey Oaks and Texas (Red) Oaks have begun their annual transformation of the hill country - look for mellow yellows and deep maroons on the hillsides. You haven't missed it yet so come out soon and enjoy a hike at our beautiful park!
TPWD photos taken on 11/20/2011 by Richard Treece
---

November 14, 2011 Report: Most Maple trees throughout the park are revealing brilliant color, and with many still with green leaves and yet to change, we might expect our fall spectacular to last for another week or maybe two. The Red Oaks are now joining in the wonderful parade of color with their dark shades of red to maroon. The drive out to Lost Maples is spectacular as many kinds of trees are showing color in the hill country. Come on out to experience one-of-a-kind views of our great state of Texas!
TPWD photos taken on 11/14/2011 by Richard Treece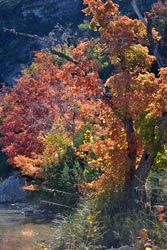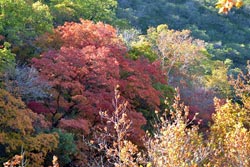 ---

November 08, 2011 Report: The Maple trees are bursting into brilliant colors along with the Walnuts and Sycamores throughout the park. The pictures I have taken just can't do justice to the colors that can be seen on the trees! All of the trails have trees showing great color with others still yet to change. I have great expectations for the next week or two so come on out and see for yourself our beautiful Lost Maples.
TPWD photos taken on 11/7/2011 by Richard Treece
---

November 02, 2011 Report: We are anticipating some good color in the next two weekends from the cold front that just came through. A few of the Maple's on the hike to the ponds are producing brilliant reds, and mixed with the golden browns of the Sycamore trees, it's just stunning. The East Trail is beginning to show some color in red to orange in spots along the hike to Primitive Area A. The Overlook at the ponds is a beautiful view looking down the canyons. Come out to see us and enjoy the drive in the Hill Country, it's beautiful.
TPWD photos taken on 10/31/2011 by Richard Treece
---
October 26, 2011 Report: The Maple trees are giving hints that they might give us some nice color soon. With much cooler weather predicted this weekend they should show us their true colors for the fall within a week or two. When you come to visit, you can also look for the vines on the trees, known as Virginia Creeper - they'll be bright red to maroon in color. I've included a picture of a Virginia Creeper for you to enjoy. The weather is pleasant for hiking or camping these days so come on out and spend some time with us.
TPWD photos taken on 10/32-23/2011 by Richard Treece
---

October 17, 2011 Report: The majority of the mature Maples are still in good shape so now some mild days (In the 70's would be good) and nights in the high 30's, we're hoping for some fall color soon. I have seen the tops of a couple of Maples already beginning to turn red. Let's hope the forecasted temperatures this week will contribute to the production of some good pastel colors this fall. Please send all wishes and e-mail to Mother Nature asking for the right conditions for our trees, so they can give us a spectacular fall show! As always, come visit us anytime for great hiking, camping, and fishing. We just stocked our main pond with catfish waiting to tug on your line & remember there's free fishing in Texas State Parks, no license required.
TPWD photos taken on 10/17/2011 by Richard Treece
---

October 12, 2011 Report: It's still a little early for fall color but the mature trees are in good shape and we actually have some green grass. We're excited about the rain we got this past weekend. Now all we need is a good dose of cold weather and we might have some good color. While we wait on the trees, this week I've included some pictures to showcase other great features of the park to invite you to visit with family and friends for some beautiful hikes, great photo spots, or maybe a picnic.
TPWD photos taken on 10/10/2011 by Richard Treece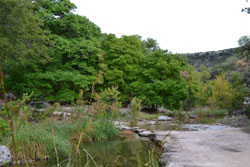 ---

October 5, 2011 Report: The fall colors are about three to four weeks away. The drought has stressed our trees on the sides of the canyons and in other areas. The maple trees are in fair to good shape in areas of the park along the East Trail and on the trek to the Ponds. The main thing we need now is some cold weather to help the trees start making some fall colors. We have sent the memo to Mother Nature and hope she responds in a positive way. The weather is great for camping and hiking in the park so "Come on out and see us."
TPWD photos taken on 9/30/2011 by Richard Treece
---