Nature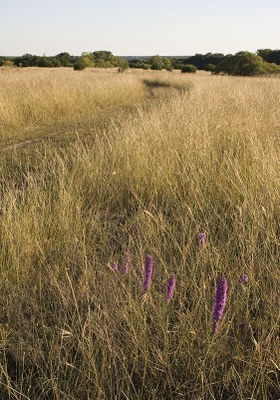 Prairie Restoration Project
Why isn't the grass mowed in the park?
Native prairies and grasslands play a vital role in the health of an ecoregion. They provide habitat for many wildlife species. These species include native and migratory birds, mammals, reptiles, amphibians and insects.
Recent construction projects in the park disturbed the ground and we've had excessive rainfall over the last two years. As a result, invasive species have established themselves along roadsides and camping areas. Bermuda and Johnson grasses threaten the native prairie.
TPWD protects native habitats by managing invasive species. To do that here, we leave prairie areas unmowed, remove invasive species, and, most importantly, reseed native plants.
We have a unique opportunity to preserve the native prairie here at Mother Neff. We want you to camp among native wildflowers and grasses, songbirds and other winged pollinators.
Geography
The park lies within the Lampasas Cut-Plain subregion of the Edwards Plateau natural region. 
Three geographic zones can be found in the park: 
Bottomland in the Leon River floodplain
Limestone escarpment and canyons
Washita prairie.
To learn more: