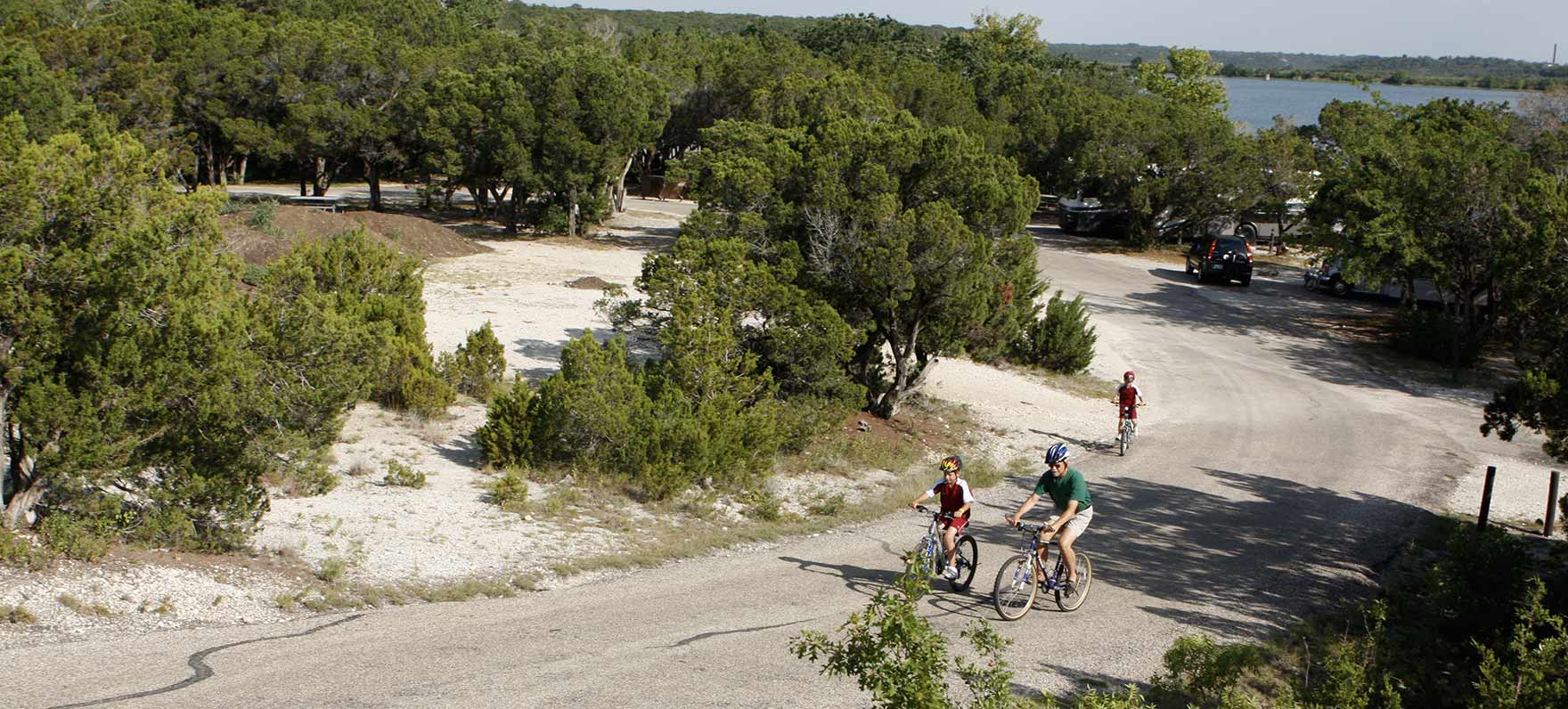 Things to Do
Cleburne State Park mountain bike and hiking trails offer 13 miles of beautiful scenery with a variety of challenges for all experience levels. The terrain on the trail is as diverse as the hills. You will experience treacherous downhills, fast smooth flats, and everything in between. The technical and wooded trails form an entire loop that has made this trail a favorite for mountain bikers in training or those who enjoy a challenging ride. The trail will test your skills and endurance and is well worth your time! Take a virtual tour with our Interactive Trails Map.
Fishing and boating the clear blue waters of Cedar Lake is a wonderful way to spend the day with your family. Note:  Boats may not create any wake on this lake and personal watercraft (i.e. jet skis, seadoos, etc.) are not allowed. We sell ice, firewood, charcoal and souvenirs at our park store. If you plan to swim at the park, read through our swimming safety tips before you come.
The park has a variety of campsites, including full hookup sites, a primitive area for youth groups, screened shelters and cabins. Group facilities include a group camp with a dining hall and two barracks that can hold up to 48 people overnight, and the new Cedar Lodge group hall with an attached kitchen, outdoor fireplace and a recreation area.   
Volunteer:  We need your help! To volunteer:
Ranger Programs
The park offers a variety of educational opportunities. Check the calendar for upcoming events or contact the park for special tours.
Get more information on the Civilian Conservation Corps, which helped develop this park and numerous others over 70 years ago, by visiting our CCC page that includes the interactive online exhibits and education resource, "The Look of Nature:  Designing Texas State Parks During the Great Depression" and "A New Deal for Texas Parks."
Citizen's Park Ranger Academy
Experience the adventure of working in a state park in this unique, four-week program. We cover wildland firefighting, interpretive programs, park operations, law enforcement and more. The program is free; students must be at least 13 years old. The next academy will be at Dinosaur Valley, Cleburne and Meridian state parks in April 2017; visit the academy's web page to learn more. 
Area Attractions
Nearby attractions include Dinosaur Valley State Park; Meridian State Park; Lake Whitney State Park; Acton State Historic Site; Fossil Rim Wildlife Center; Texas Amphitheater featuring "The Promise"; Six Flags Over Texas theme park and water park; Texas Ranger baseball in Arlington; three golf courses (Squaw Valley Golf Course, Nolan River Country Club and Cleburne Municipal); and Lake Pat Cleburne.