History
Building a railroad tunnel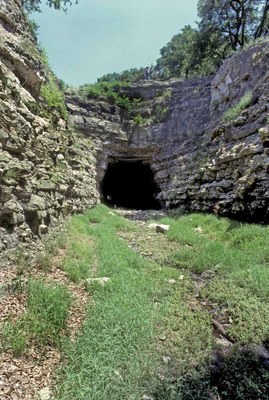 Old Tunnel State Park's namesake—the railroad tunnel—symbolizes persistence and resourcefulness.
When European settlers moved into this area in the mid-1800s, they needed a reliable way to connect nearby Fredericksburg to San Antonio. The Big Hill stood in the way.
Since trains weren't quite powerful enough to climb this ridge, the rail line needed a tunnel. But the cost of breaching the Big Hill thwarted their plans.
By 1913, locals raised enough money to build the tunnel.
Workers bored 920 feet through solid limestone—that's the length of two and a half football fields! Around 100 workers, probably local laborers of German descent, dug out most of the tunnel by hand. During its construction, the tunnel became a popular tourist attraction, much like it is today.
The San Antonio, Fredericksburg, and Northern Railway used the tunnel until 1941. Despite its popularity with local residents, the rail line was never profitable. It was deemed unessential to the World War II effort and was dismantled, so the ties and rails could be used for other things.
Once people abandoned the tunnel, new residents moved in: bats.
Bat refuge
Old Tunnel State Park is the smallest state park in Texas at 16.1 acres.
Texas Parks and Wildlife Department acquired Old Tunnel State Park in 1991. In 2012, the State Parks Division took over management of Old Tunnel.
Biologists have conducted research at Old Tunnel WMA since TPWD purchased the property. Results of these research projects have allowed biologists to make sound management decisions. Research continues today.