Teach Fishing
Learn how to teach fishing basics to youth and adults in your community. Take a free, fun, hands-on instructor training workshop (4-6 hours). Check our Calendar for Angler Education Instructor Workshops in your area.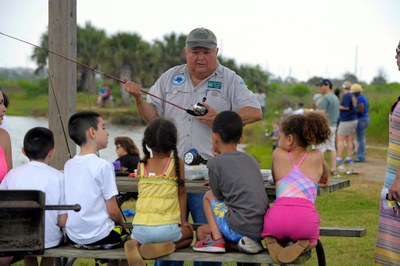 Angler Education Program Provides
A curriculum that is hands-on and fun for participants
FREE educational materials, certificates and fish pins
Loaner equipment where available 
For more information see our brochure.
Who Uses Angler Education?
Teachers (SBEC credit available)
Scout Leaders and other youth group leaders
Parks and recreation department staff
Fishing club members
Churches and local community groups
After-school and summer camp staff
Homeschoolers
What We Teach
Angler Education Programs for Youth and Adults
All classes are taught using fun, hands-on activities.
Basic Fishing classes introduce participants to: equipment, knot tying and tackle assembly; casting and fishing skills; fish ID and habitats; regulations and ethics; and safety and stewardship. 
Advanced Fishing classes provide more advanced experiences in both fresh and saltwater fishing, as well as information about both fresh and saltwater aquatic environments.
Basic Flyfishing is an introduction to fly fishing for youth (ages 10 and up) and adults to become familiar with: fly rods and reels; tackle assembly; flies and fly tying; proper casting techniques; aquatic habitats; regulations and ethics; safety and stewardship.
Intermediate Flyfishing provides additional knowledge and skills required to begin flyfishing. Youth (ages 10 and up) and adults learn to: identify fish and fish habitats, tie fly fishing knots and flies, understand fishing regulations, properly handle fish and cast safely.
Check our Calendar for fishing classes and events in your area.
How to Report Online
After you watch the video, submit your report online.
Aquatic Education Resources
Fishing for Conservation: an excerpt from the Texas Aquatic Science online student guide
Prevent Monofilament from Becoming the Next Invasive: Instructions to make a PVC fishing line collection tube (You will be redirected to the PDF on Fishing's Future website)
State Fish Art Contest: Students in grades 4 through 12 in public, private or home schools are invited to submit a drawing of an officially recognized state fish and a one-page essay on its behavior, habitat or conservation. Students in K-3 may also submit a drawing; the essay is not required for this age group.
Volunteer Spotlight
Why did you become a volunteer for TPWD's Angler Education Program?  
I enjoy the outdoors and love teaching children skills to make them love the sport of fishing.  From my experience, I see that many children have few opportunities to learn how to fish and when parents get involved in the learning children find it more meaningful for them.
~ Irma R., San Benito, TX
I became a volunteer to be able to work with kids, and teach about fishing and outdoor activities, as well as stewardship of our lakes, rivers, and streams. Most importantly, I volunteer to pass on the passion of fishing that was instilled in me as a child, and promote family unity with outdoor activities.
~Rodd G., El Paso, TX