Beginning of the Program to Rid the Bay of Lost Crab Traps
Art Morris, Outreach Specialist, Coastal Fisheries Division, TPWD (Revised 11/10/15)
Lost or abandoned crab traps are a problem for all users of Texas marine waters. First introduced to Texas in the late 1940's, the wire crab trap has made a positive impact on fishing efficiency and harvest. However, the proliferation of trap use has led to user conflicts and other problems associated with lost or discarded crab traps. Removing thousands of traps can be expensive and time consuming but Texas was overwhelmed with the problem. Then in 2001, during the 77th Regular Legislative Session, Senate Bill 1410 was passed to create a volunteer program to cleanup traps.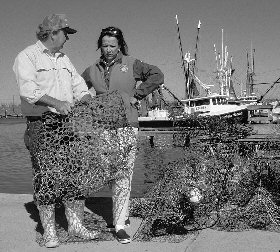 In February of 2002, the first abandoned crab trap removal program was conducted. It was so successful; it inspired other Gulf States to tackle this issue as well. During this first effort, 554 volunteers representing over 60 organizations, businesses and government entities helped remove 8,070 traps from all the major bay systems along the Texas coast. Galveston Bay led the way with 3,214 traps removed, followed by San Antonio Bay with 2,131. The Coastal Conservation Association (CCA) Texas was a key supporter of the program and secured a much needed $14,000 grant from the FishAmerica Foundation to help TPWD offset expenses.
Lost traps are capable of fishing continuously for many months, if not years, after they have been lost. This unattended fishing by crab traps is often referred to as "ghost fishing". Biologists estimated that over 11,000 organisms were saved just during the week of the first cleanup in 2002. Even more were saved when you consider that the traps were removed and will not continue to kill more fish and crabs throughout the year. Twenty-one species of organisms, many commercially or recreationally important, were observed in these traps including blue crab and stone crab.
Lost traps have also been a source of user conflicts. Boaters and fishermen that have come in contact with these lost traps with their motors and fishing gear often end up with costly repairs or loss of valuable fishing time. These traps may also be damaging sensitive habitat, such as sea grasses, in some areas. Additionally, the removal of lost traps enhances the natural beauty and aesthetic value and the experiences we have while being out in Texas bays.
The Abandoned Crab Trap Removal Program for volunteers takes place in late February or early March every year. TPWD facilitates roughly 20 sites coast wide and provides disposal facilities, supply tarps, gloves, crab trap hooks and other items to volunteers. To find out more about how you can volunteer for this year's program, contact Zack Thomas at TPWD Headquarters in Austin at 512-389-8448 or visit TPWD Abandoned Crab Trap Removal Program webpage.
Information:
© Copyright Texas Parks and Wildlife Department. No part of this work may be copied, reproduced, or translated in any form or medium without the prior written consent of Texas Parks Wildlife Department except where specifically noted. If you want to use these articles, see Site Policies