Life of a Coastal Biologist
by Art Morris, Coastal Fisheries Biologist, Corpus Christi Texas
Rays of sunlight radiate across the calm bay waters as the sun begins its gentle descent over the horizon. Sea gulls glide softly in the slight evening breeze as they fly to their nightly roosts. As the final few feet of the last gill net of the afternoon slide off the back of the boat, the placid waters bring a sense of serenity that confirms why you chose this profession. As night looms ahead, you speculate on what you might find in your nets the next morning with a little hum of excitement.
The morning sun has just begun to rise over the horizon as you begin "running" your first net. Your "day" began hours before back at the lab. The neoprene waders and floatation device keep you cozy and safe, but create an obstacle as you try to navigate over a slick deck covered with heaps of gill nets and fish. Nevertheless, the un-forecasted drizzle and chilly temperatures that come with the pushy north wind, require that you wear the protective garb. Protocol dictates that the multitudes of fish have to be removed from the hundreds of yards of net in a particular order, with a particular method -- and slowly. Again, Mother Nature makes you reflect on why you chose this profession.
Interest in becoming a coastal fisheries biologist may have evolved from a childhood growing up fishing and hunting. Or the seed may have been planted by an early mentor, like Jacques Cousteau on TV or a teacher in high school. Whatever the incentive, biologists are typically not interested in an 8-5 office job somewhere or in making a lot of money. They do share a common interest in protecting the environment and teaching others how to carry on without them in the future. And most of the time, the"TPWD biologist" moniker stays with you at night and on weekends…at the corner store or on the road. You are often the "go-to" guy in the neighborhood when kids bring critters they caught in the bar ditch for identification. Best of all, long after that retirement cake has been eaten, you are still a practicing biologist.
The job you chose is to work for the public who care about the natural world – the outdoors. Lifelong friendships are often created and partnerships formed. You work toward a mission you believe: "To manage and conserve the natural and cultural resources of Texas and to provide hunting, fishing and outdoor recreation opportunities for the use and enjoyment of present and future generations." However, working "with and for the people" ranges from refreshing times to downright daunting moments. The good feelings are like the success of the crab trap removal program, where everyone worked together for a common good. Conversely, while coastal fisheries biologists stand on their 30 years worth of data as if it were the Bible, often others don't believe in it or want to accept it. When you are a coastal biologist, you never walk into a public meeting where everyone is on common ground. Generally, everyone has an opinion and are usually not shy about sharing it. Your own integrity may be questioned and rarely do you get a pat on the back for a job well done.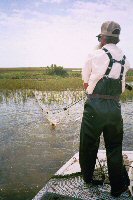 Nevertheless where publicly owned resources are concerned, all opinions and ideas are considered to some extent -- some useful; others questionable. Take for example, the person who called wanting to start a shrimp farm. Generally, this is not a particularly difficult task to accomplish. However, this person wanted to net off half of Nueces Bay, take out all the organisms in the netted-off area, stock it with larval shrimp, let them grow up, harvest them, donate a few to feed the homeless, pocket a portion of the proceeds, and then let the shrimp left behind escape into the wild to procreate. While this person came up with a novel idea and has a charitable heart, better informed heads should prevail.
Sometimes, being a coastal fisheries biologist requires patience. Take for example, the person that called in with the question, "I know when the female spotted seatrout spawn, when do the males spawn?" Or the gentleman who asked, "Do you sell those Terrorist Hunting Permits?" Sometimes you simply scratch your head. Like the revelation during a meeting that if you want to fish in a shallow slough and can't get your boat across the mouth, you can take a garden tiller and till a path across the mouth so you can get in! Or the gentleman that stated that he liked to "oyster until April 31st or 32nd."
Often the job itself is challenging. Try interviewing dozens of hot and tired anglers at a remote shelter-less boat ramp on a blistering Sunday afternoon in August. Tackle picking up gillnets during a "blue norther". Fish that are so cold, you can literally load up the nets, fish and all, take them back to the ramp and pick the fish out and release them hours later – still alive. Ever pulled a 60 foot bag seine 50 feet across hip deep muck? Got a respirator? How about responding to a red tide fish kill event covering 40 miles of beach – while it is occurring. Got a weak stomach? Let's go count and measure dead fish after a freeze – every day for two weeks after they died. Ever get motion sickness? Try collecting offshore trawl samples off the back of an undersized vessel in 10 foot seas or conducting aerial surveys – sideways. Throw in a few dozen phone calls, a presentation at a local school, a meeting, and you could be a coastal biologist.
If you ask a coastal fisheries biologist: "If you had it to do over again, what would you do different?" Most would respond, "Not a darn thing!" Who else in the world gets paid to work with critters on a daily basis or to "go fishing". Who else has an office the size of the Laguna Madre; a working suit that's a pair of shorts, a khaki shirt and a cap; or can define a traffic jam as two boats in front of you at the boat ramp. Who else has the good fortune to spend a career – or a lifetime – getting paid to do what they enjoy most in life? Who else on a daily basis gets the opportunity to help and teach others to protect the things we all love and profit from? Like all jobs there's good and bad moments, but for us, the perk is just getting to go to work.
Information:
© Copyright Texas Parks and Wildlife Department. No part of this work may be copied, reproduced, or translated in any form or medium without the prior written consent of Texas Parks Wildlife Department except where specifically noted. If you want to use these articles, see Site Policies.