Sabine Lake Fishing Forecast - 2005
by Terry Stelly Coastal Biologist - Port Arthur
Sabine Lake sits on the northern end of Texas' 367 mile coastline, an area blessed with an abundance of saltwater fishing opportunities. It is here in the Sabine Lake system where freshwater inflows are the highest on the Texas coast, averaging around 12 million acre-ft/year.
Inflow differences bring changes in salinity leading to differences in fish abundance and diversity. In the Sabine Lake system, high inflows and low tides tend to push saltwater south towards the Gulf of Mexico, while low inflows and high tides allow saltwater to reach the northern end of Sabine Lake and for some distance on up the Sabine and Neches Rivers. Understanding this affect leads to success when fishing the Sabine Lake system.
Sabine Lake has a sport angler high use season (15 May – 20 Nov) that is a basic time interval for the Coastal Fisheries sampling system. Total fish landings have increased for the second consecutive year even with fewer sport anglers fishing for fewer hours. The result is a total fish catch rate increase not seen since the 2000 season. This means that anglers fishing the Sabine system should not go home with an empty chest. All images of the abundance and harvest of important species in Sabine Lake and a map showing boat access points have been placed at the end of this report.
Spotted seatrout catch rates for both spring and fall gill nets and sport anglers increased last season after dropping two consecutive seasons. Sabine spotted seatrout may be better in the spring, but not much better than the fall, so anytime during the high use season is good for landing trout. Although sport angler Kelly Rising's catch on March, 28 1999 established the Sabine Lake water body record (11.5 lbs, 30.5 inches), larger trout often are available throughout the spring. Yes, there are large trout in the Sabine Lake system!
Although red drum sport angler landings are down, their overall trend (1987-2004) is slightly positive, indicating there are fish to be caught. Fall gill net catch rates for red drum are also down, while the spring rate increased. Overall, the long term trend for sport angler and gill net catch rates are increasing. The red drum fishery remains a valued year-round inshore opportunity for anglers. Evidently, sport angler Brian Poirier believed reds were here when he landed Sabine Lake's water body record (35.4 lbs, 43 inches) on March 27, 2004.
The sport angler landings for southern flounder have increased for the last two years. Spring and fall gill net catch rates have generally climbed in the last three years, except for a slight drop in the spring of 2004. Southern flounder gill net catch rates, like Atlantic croaker and sand seatrout are greater in the fall than the spring, providing an additional choice for fall anglers. Indications are good that flounder will continue to provide abundant landing opportunities for fall fishermen. With populations like this, Herbert Endicott's state record 28 inch,13 lbs southern flounder caught February 18, 1976 in the Sabine Lake system may be exceeded any time. Obviously, the fall is not the only time a Sabine flounder may find a hook!
After a record high in 2000, black drum sport angler landings declined for three years only to turn upward in 2004. Both spring and fall gill net catch rates increased in 2004 as did the overall trends. Sport angler Albert Schwartzenburg established the Sabine Lake water body record on May 14, 1998 with a black drum measuring 30 inches (maximum legal size) weighing 18.75 lbs.
After declining in the three previous years, sand seatrout 2004 sport angler landings are now rising. Sand seatrout are nearly non-existent in Sabine Lake spring gill nets, but do occur more frequently in fall gill nets, however, gill net catch rates decreased for the second year in 2004. If 2005 turns out to be a wet year this trend may be hard to change. Sport angler Albert Schwartzenburg established Sabine's water body record with a sand seatrout weighing 1.25 lbs at 14.88 inches in length. Surely, there is one larger out there waiting for some ambitious angler.
Atlantic croaker continued its third consecutive year of decreased landings while reaching a new record low. After the 2004 fall gill net season, Atlantic croaker appears to be maintaining a relative constant catch rate. From a sport angler view this is good news, but anglers targeting croaker need to keep in mind seasonal differences, that the fish really are there, and be ready for those "larger" surprises. Imagine the surprise for sport angler Johnny Johnson on October 24, 2000 on landing a 19.5 inch (3.79 lbs) Atlantic croaker, establishing the Sabine Lake system water body record.
In preparation for the 2005 high use season, Sabine sport angler landings in the first half of Sabine's low use season (21 Nov – 28 Feb) have met with mixed success. Landings have increased for red drum, spotted seatrout, and southern flounder. On the downside, landings decreased for Atlantic croaker, black drum, and sand seatrout.
Anglers fishing Sabine Lake may gain access to this coming year's activity through any number of boat access points surrounding the system. (The map here shows 17 of the many boat access sites located around the Sabine Lake system.) As mentioned above, freshwater inflow and tidal conditions have a substantial impact on catch rates. Once these are taken into account, an angler should plan to target those species with greater seasonal abundance.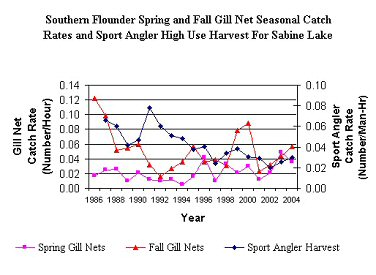 Information:
© Copyright Texas Parks and Wildlife Department. No part of this work may be copied, reproduced, or translated in any form or medium without the prior written consent of Texas Parks Wildlife Department except where specifically noted. If you want to use these articles, see Site Policies.