Taura Syndrome Virus is Back
Dr. Ya-Sheng Juan, Shrimp Farm Inspector, Coastal Fisheries Division
In mid-June 2004, the U. S. Department of Agriculture Center for Emerging Issues and the Texas Parks and Wildlife Department (TPWD) both issued news releases concerning the presence and impact of Taura Syndrome Virus (TSV) in shrimp farms in Texas' Rio Grande valley. Two weeks earlier, during the Memorial Day weekend, calls from shrimp farmers had reported higher than normal populations of birds "working" some of their ponds. Since this could indicate a potential disease problem, TPWD staff went to the farms to collect samples for analysis at the Texas Veterinary Medical Diagnostic Laboratory.
The shrimp collected that day had the soft shell and reddish tinge associated with TSV, although disease was not confirmed until June 7. Once the final report was obtained, the two affected farms were completely quarantined with no water discharge allowed from the facilities. Later, other diseased shrimp in two more farms in the valley were discovered during a routine inspection and they were also quarantined. At this point, federal and other state authorities had also sent their scientists to collect samples. Thus within two weeks of initial discovery, 4 valley shrimp farms had been quarantined to prevent an water discharge.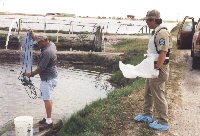 Why does TSV produce such a fast and strong response with full cooperation between Texas officials and shrimp farmers? After all, it doesn't cause infections in people, only in shrimp. One reason is the virulence of the disease on captive non-native shrimp populations. In the early 1990's, shrimp farmers in Ecuador, especially near the mouth of Taura River, suffered severe mortalities in their ponds of Pacific White Shrimp from a disease they hadn' t seen before. (One estimate of Ecuador's 30% production loss that year was US $400,000,000.) The cause of this disease was eventually determined to be a previously unrecognized agent now called Taura Syndrome Virus and diagnostics tests for its presence were developed.
Since its first appearance, TSV has been documented in most shrimp farms of Ecuador, Peru, Columbia, Honduras, other parts of Central and South America and Mexico and the U.S., often causing substantial damage to the shrimp crop. TSV first appeared in the U.S. in Hawaii in 1994 and then caused heavy mortality in Texas coastal shrimp farms in1995. In 1996, another farm in the Rio Grande Valley area had an occurrence of TSV and in the middle and upper Texas Coast, TSV lingered from 1996 to 1999. Since 1999, TSV had virtually disappeared from Texas shrimp farms.
Because mortality can range from 5% to 90% of the shrimp infected, Texas shrimp farms are very concerned about controlling TSV on their farms. Their crop and their annual income could be lost if TSV invades their ponds. TPWD's primary concern is the slight possibility that Texas commercial landings of wild-caught shrimp (about 230 million pounds in 2002) might be susceptible to diseases such as TSV affecting the non-native shrimp from the shrimp farms. In fact, there was intense scrutiny of native shrimp and crab species during the period from October 1997 through September 2000 when TPWD conducted an extensive virus monitoring program to check for the virus in native shrimps and crabs caught in the wild. During this period, about 5,000 shrimp and 900 crabs were collected and tested from nine Texas coastal bay ecosystems. Fortunately, the testing lab did not detect any of the exotic viruses, including TSV, in those samples.
Unfortunately, another still unanswered question is how TSV arrived in Texas and dispersed through the Texas Coast in 1995. Is what we see in 2004 a result of that initial assault or has the disease been reintroduced? Several possibilities have been discussed by experts in the field.
TSV could have come from the brood stock used to produce shrimp larvae, however brood stock screened in Hawaii and Texas all showed negative for the virus and imported broodstock must be certified disease free to come into Texas.
Post larvae on the hatchery could have been infected but they were also checked and confirmed negative for the virus and earlier shipments to other facilities didn't became diseased with TSV.
Containers that held infected shrimp might not have been completely decontaminated.
Another possibility includes migratory birds and aquatic insects. Research has shown that bird droppings can contain infective virus particles and during shrimp mortalities on these farms, birds such as sea gulls are seen to fly from pond to pond.
The other unsubstantiated hypothesis was that TSV could have arrived in processing plants in frozen product from infected areas of South and Central America.
In part to address these questions, the U.S. Marine Shrimp Farming Program has started a shrimp health and productivity survey in conjunction with Texas A&M Shrimp Mariculture Program, Texas A&M Corpus Christi, Texas A&M Kingsville, Sea Grant and TPWD. This survey will try to find common symptoms of sites reporting TSV, so better preventive measures can be adopted in the future. If you have further questions, contact: Dr. Ya-Sheng Juan, Shrimp Farm Inspection Program, 95 Fish Hatchery Road, Brownsville, TX 78520.
Information:
© Copyright Texas Parks and Wildlife Department. No part of this work may be copied, reproduced, or translated in any form or medium without the prior written consent of Texas Parks Wildlife Department except where specifically noted. If you want to use these articles, see Site Policies