Visiting TFFC
Special Events - Fly Fish Texas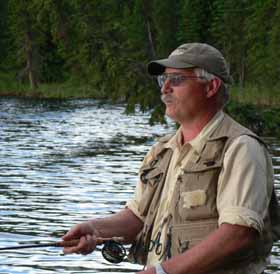 Phil Rispin
Presentation: Terminal Tackle
Dive Theater, 3:00 p.m.
Phil Rispin started fly fishing at about age 6 and spent most summers fishing the east slopes of the Rocky Mountains in Alberta. He currently works as a professor of aviation science at LeTourneau University and every summer runs two fly-fishing camps in Alberta, one at Blue Bronna Wilderness Camps in the southern Kananaskis on the Oldman River and one near Nordegg for Frontier Lodge. He also sells photographic prints of fly-fishing.
On the web: www.bluebronna.org/FlyFishingCamp
http://frontierlodge.ca/FlyFishingForAdults
http://philipkaren-rispin.artistwebsites.com/art/all/fly+fishing+streams+lakes+and+rivers/all