Accessibility Information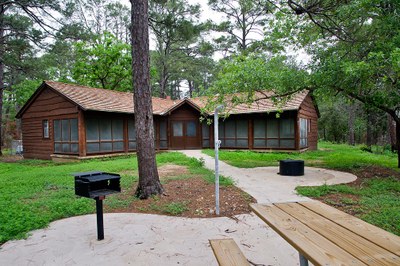 The park has several wheelchair accessible campsites, cabins, group facilities, and picnic sites. 
Cabin 14 and Cabin 12 are wheelchair accessible.
The historic Refectory (group hall with a kitchen) has a wheelchair entrance.
The following campsites are close to the bathrooms and have a raised fire ring, upright grill, lantern post, picnic table and paved pathways, that are designed for use with a wheelchair:& Full hookup campsites 01, 18, 19 and 25 in the Piney Hill area, and 69 and 71 in the Copperas Creek area; campsite with electricity 61 in the Copperas Creek area; tent-only campsites 27 and 28 in the Deer Run area.